Here at ACUTE Environmental and Safety Services, we are celebrating our 25th anniversary in 2020!
Since 1995, ACUTE has provided comprehensive health and safety training, on-site safety services and consulting services. With over 100 years of combined experience, we offer more than theoretical or abstract ideas – ACUTE offers solutions.
Now let's take a look at how ACUTE grew to where we are today!

ACUTE Environmental and Safety Services 25th Anniversary: 25 Years of Service
ACUTE's Beginnings
ACUTE was established in 1995 by a group of experienced environmental contractors. They took their knowledge gained from years of fieldwork to create a comprehensive health and safety training service.
Early in ACUTE's history, we decommissioned Great Lakes lighthouse Fresnel lamps. This involved the removal of substantial quantities of toxic liquid mercury from lamp ballasts and contaminated surfaces.
This project demanded very detailed safety and logistics planning. It also served as the primary catalyst for ACUTE's rise to becoming a leader in health and safety services for Canadian workplaces.
Health and safety training soon became and remains to this day ACUTE's premier area of service. Additionally, the lighthouse remains our logo of choice. The message sent is that you will "get home safe" and that remains our overriding philosophy.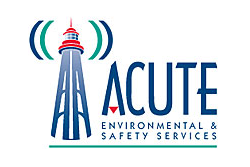 The logo for ACUTE Environmental and Safety Services features a lighthouse because we want you to get home safe.

ACUTE Environmental and Safety Services: Training Courses
There have been many developments since the initial work done in 1995.
Most notably, ACUTE provides you with a wide range of training courses: Joint Health and Safety Committee, Elevating Work Platforms, Working At Heights, 40 Hour Hazwoper and Confined Space Entry, just to name a few.
Here's a brief preview of each.
A Joint Health and Safety Committees (JHSC) is a committee of at least two persons who represent the workers and the employer at a workplace. Your role is to identify workplace health and safety problems and bring them to the attention of the employer. This certification involves training in health and safety law, and the identification, assessment, and control of hazards.
Joint Health and Safety Committee Training Video
Elevating Work Platforms (EWPs) can be safe solutions to working at heights challenges. That includes scissor lifts and boom lifts, for example. Unfortunately, lack of training, improper use, and defective equipment has led to serious incidents involving workers in Ontario.
The EWP course has been constructed to prepare you for the safe use of EWPs. The theory module covers all classes of EWPs, while the practical module covers only the type of EWP used in the participant's workplace.
Elevating Work Platform Training Video
The Construction Projects regulation requires all workers who use/wear fall protection to have received Working at Heights training from a training facility which is approved by the Ontario Chief Prevention Officer as an Approved Training Provider.
As such, all operators AND passengers on elevating work platforms used on project sites must have Working at Heights training.
Objective: The purpose of a Working at Heights training program is to:
Strengthen workplace safety culture by elevating the profile and importance of preventing falls from heights
Provide workers who may be exposed to the hazard of falling with adequate knowledge about fall hazards and general safety practices to work safely at heights
Provide workers who use personal fall protection equipment with sufficient knowledge about its purpose and use
Reduce the number of fall-from-heights incidents, injuries and fatalities
Working at Heights Training Video
This training program covers the requirements of the OSHA HAZWOPER standard (29CFR 1910.120). This standard sets out the minimum training requirements if you work on hazardous waste sites, environmental remediation and emergency projects in the United States of America.
The quality and comprehensive nature of this standard make it applicable and attractive to those employers and employees who work in Canadian workplaces who may be exposed to environmental contamination or hazardous materials.
HAZWOPER Training Video
Many workplaces contain spaces that are confined spaces. Confined spaces are high-risk work areas that have killed workers and would-be rescuers. Very specific rules need to be followed by workers who work in and around these spaces.
This training program will familiarize you with the requirements of Ontario Regulation 632/05 – Confined Spaces. Furthermore, the training program is intended to provide entrants, attendants and competent persons the skills and training required to recognize confined space entry risks and how to establish measured and corresponding controls.
You will have the opportunity to become familiar with, inspect and use Confined Space Entry (CSE) access equipment and air quality instrumentation.
Click on the calendar below to see all of ACUTE Environmental and Safety Service's course offerings.



ACUTE's World-Class Health and Safety Training Centre
One are that sets ACUTE apart is our world-class training facility. Located in Waterloo, ON, our training centre delivers uncompromising quality training. It also empowers your team to work safely and effectively. We boast engineered simulators for real hands-on experience with safety and guidance. It's also the best-equipped facility in Ontario!
We plan to commemorate our 25th anniversary with events at our facility – stay tuned for more details!
Other features include of our training centre include:
The latest technologies and tools for working at heights, including fall restraint and decelerators equipment.
Full-scale construction site and synthetic precision human mannequins. They enable coordinated team training, communication, and emergency response.
You can conduct real-life confined space entry and rescue exercise training.
Learn the best visibility and safety awareness strategies while immersed in a confined space maze!
ACUTE Environmental and Safety Services has trained over 100,000 participants over the years. That includes employees from the following companies: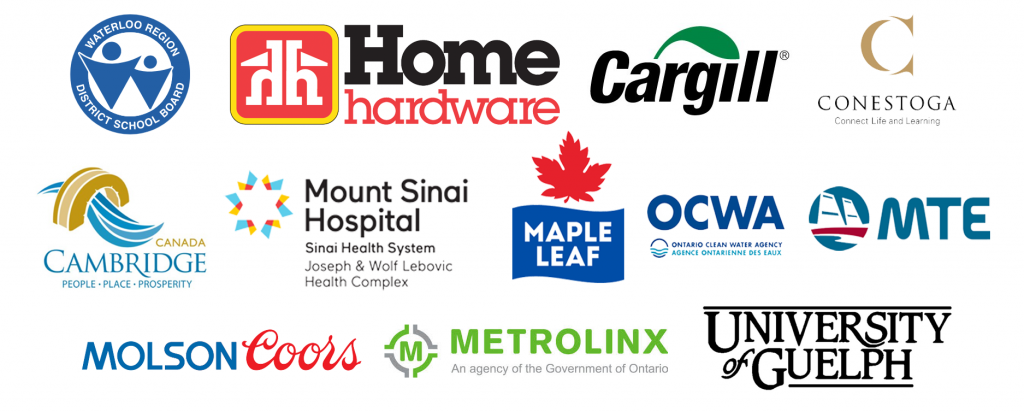 Organizations we have trained in the past.
We are pleased to provide a training checklist serving as a quick guide to the Ministry of Labour's Occupational Health and Safety Act for employers.
Checklist Features
Training requirements for all workplaces
Stipulations for workplaces with 6 or more regular staff
Requirements for workplaces with more than 20 staff
Comprehensive list of mandatory workplace safety signage laws that all workplaces must adhere to
The checklist is a resource and in no way is a replacement for a review of the full Ontario legislation found here.

ACUTE Environmental and Safety Services: 25 years of Service!
You can trust ACUTE to provide you with the best comprehensive, hands-on training.
Here are some ways that ACUTE goes beyond government compliance in Ontario health and safety training.
Open Door Instructor-Student Partnership: ACUTE's training services emphasize client participation. Staff foster relationships with clients and serve as a touchstone for advice moving forward.
Serving Your Team and Industry: With a vast array of clients in the manufacturing, construction, health, academic, and government sectors, ACUTE brings the best safety practices from across the spectrum to your workplace.
100 Years of Combined Experience: ACUTE provides comprehensive health and safety training, on-site safety services, and consulting services. With over 100 years of combined experience, our staff offers more than theoretical or abstract ideas. ACUTE offers solutions.
Track Record of Success: ACUTE is rated 4.9/5 stars on Google reviews, demonstrating a commitment to our clients, quality, and a passion for training.
"For over 20 years, Ron Campbell and the professional team at Acute has helped us develop a continuously improving safety program customized to our unique needs in environmental testing and renewable energy services. We are proud of our safety culture and record supported by Acute training services."
– Hank, Environmental Consulting Company, Read more customer reviews here.