In this article, we will outline what you need to know about working at heights training in Toronto.
If you work on construction projects and use fall protection devices, you must take a working at heights training program. ACUTE's Working at Heights course provides theoretical and hands-on practical training facilitated by highly skilled and experienced instructors. Register today for the best working at heights training Toronto and surrounding cities has to offer,
Now let's take a comprehensive look at what you need to know about working at heights training in Toronto.
What Do You Need to Know About Working at Heights Training Toronto?
Frequently Asked Questions
1. Who needs working at heights training?
Ontario workplaces are divided into legislated sectors. As a result, each sector is governed by regulations outlining training requirements.
Ontario Regulation 213/91 – Construction Projects governs construction work. This includes working at heights. Working at heights training is therefore mandatory if you are a construction project worker who uses any of the following methods of fall equipment: travel restraint system, fall restricting system, fall arrest system, safety net, work belt OR safety belt.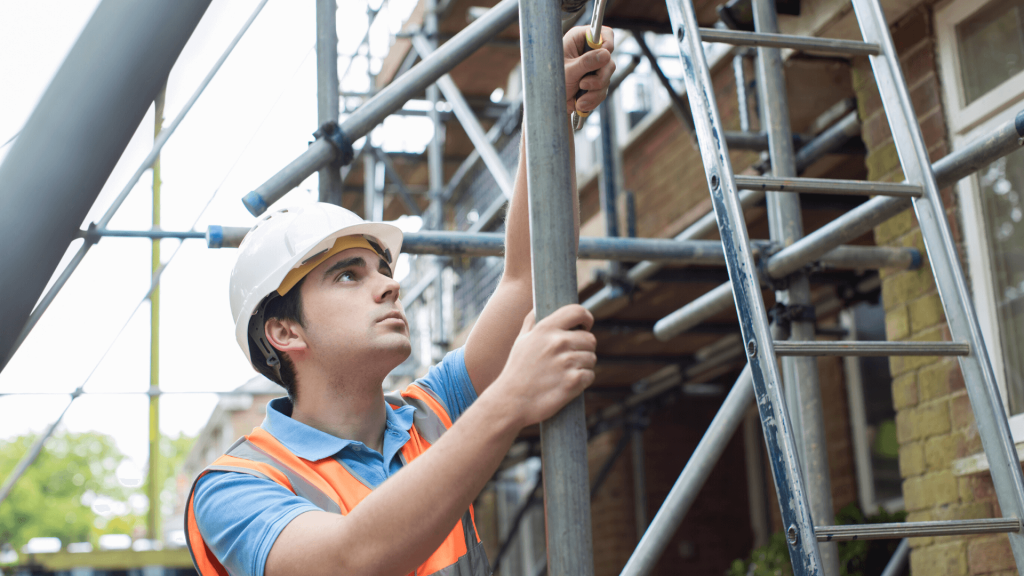 You must take working at heights training if you'll be up high on a construction site in Ontario
2. What will you learn?
ACUTE's working at heights training provides theoretical and practical training, as well as critical evaluation facilitated by highly skilled and competent instructors. Here's a look at how the day would break down:
Theory Module – 3hr
Working at Heights (WAH) and legislation
WAH hazards
Safe Work Plans & assessing and controlling WAH hazards
The hierarchy of controls – application to WAH
Fall prevention strategies and systems
Fall protection systems
Ladder safety
Practical Module – 3.5hr
Fall prevention/protection system requirements and limitations
A-B-C component selection, inspection, use
Harness inspection and fitting exercise & evaluation
Lanyard inspection exercise and evaluation
Travel restraint, fall arrest set-up exercise & evaluation
100% tie-off exercise and evaluation
Rescue plan – components and purpose
Safe work strategies and safe anchor exercise
A preview of Working At Heights training Toronto from ACUTE Environmental on Vimeo
3. Where can you find the best working at heights training Toronto has to offer?
ACUTE's world-class training facility is located in Waterloo, approximately 115 kilometres from Toronto. This health and safety training centre is engineered to deliver world-class training, complete with real tools and real hazard scenarios. As a result, it's very much worth the trip!
Above all, this facility offers immersive hazard scenarios and simulations that help your team gain experience alongside real challenges, tools, and context.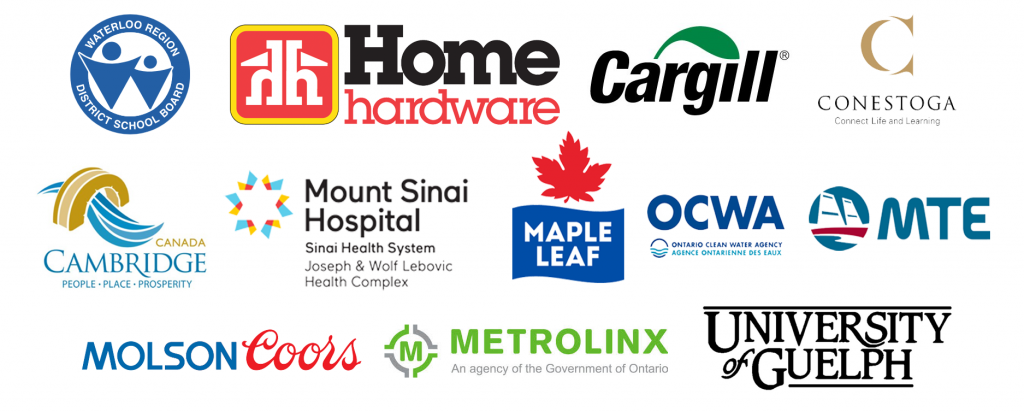 Join these trainees and experience the ACUTE difference!
4. When should you take the course?
As mentioned above, you must take the training if you live in Ontario and work on construction projects and use fall protection devices. The training is valid for three years after the completion date and you will receive a copy of your proof of completion document or a record that includes your name, the approved training provider's name, the name of the approved training program, and the date on which the training was successfully completed.
If you lose any of the above, there are three ways you can check to see if your certification is valid:
After that, therefore, you are required to complete a WAH refresher training course every three years.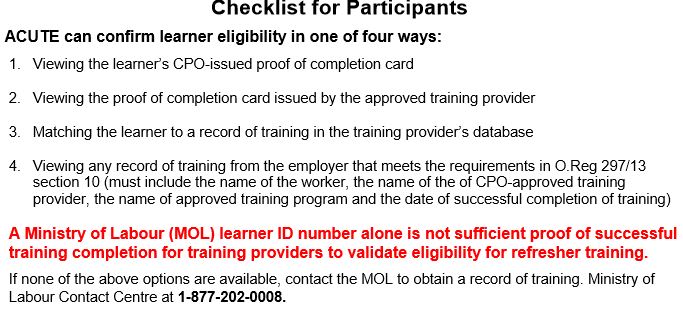 Refer to this checklist before attending at working at heights refresher in Ontario.
5. Why do you need working at heights training?
The purpose of working at heights training in Toronto and across the province is fourfold:
Strengthen workplace safety culture – To elevate the profile and importance of preventing falls from heights.
Knowledge and Safety Practices – Similarly, to provide workers who may be exposed to the hazard of falling with adequate knowledge about fall hazards and general safety practices to work safely at heights.
Purpose and Use of Equipment – To provide workers who use personal fall protection equipment with sufficient knowledge about its purpose and use; and,
Incident Reduction – Above all, to reduce the number of fall-from-heights incidents, injuries, and fatalities.
For instance, here's a fairly recent example of a construction project fall to reinforce the need for working at heights training in Toronto.
Date of accident: February 21, 2018.
Details: A worker fell from a second-floor balcony to the ground while installing aluminum siding and sustained injury.
Penalty: Following a guilty plea, the company was fined $60,000.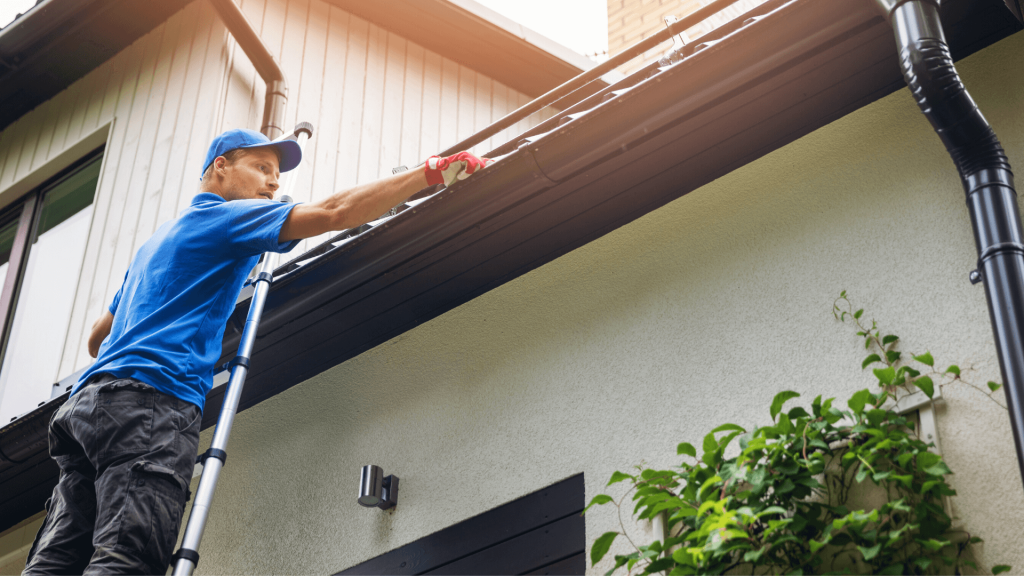 For all news on Ontario workplace injuries from the Ministry of Labour, click here
Working At Heights Training Toronto – Latest Fall Statistics
There were 11,928 recorded injuries as a result of workplace falls in Ontario in 2017, according to a report generated through the Workplace Safety and Insurance Board (most recent year available). That number was up from each of the two previous years and emphasizes the great importance of making sure your employees have the most hands-on and effective training.
Here's a look at how those injuries are broken up by sector, for example:
Services – 2868
Health Care – 1253
Construction – 1250
Manufacturing – 1118
Transportation – 1035
Food – 234
Agriculture – 213
Automotive – 212
Education – 184
Municipal – 174
Chemicals/Process – 140
Electrical – 79
Mining – 37
Forestry – 33
Primary Metals – 22
Pulp & Paper – 21
TOTAL FALLS = 11,928
In conclusion, falls are not exclusive to construction, and if anyone will be working at heights, it's important to get them trained – especially if they work in the five sectors pictured above!
Alternatives For Non-Construction Workers
Fall arrest training is a type of fall protection training. This training course is geared towards those working at heights in Industrial Establishments, Mining Operations, Health Care and Residential Facilities sectors, or workplaces other than Construction Projects.
In addition, this flexible training course can be modified to best suit your specific industry's needs, and to address workplace-specific equipment. This course includes hands-on training, detailed videos, handouts, quizzes, and classroom interaction with experienced instructors.

This course focuses on the dangers of working at heights from a scaffold or ladder, and how to prevent accidents and incidents. Our scaffolding and ladder course teaches participants how to work safely, including how to properly dismantle scaffolding after use. In other words, you will learn how to properly identify workplace hazards related to scaffolding and ladders, how to identify safe scaffold setups, how to identify different types of ladders, and understand the legislation.

Trust ACUTE For Working At Heights Training, Toronto!
In conclusion, here are just some of the benefits of working with ACUTE.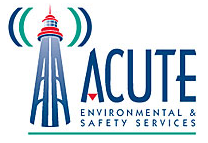 Open Door Instructor-Student Partnership – ACUTE's training services emphasize client participation. Staff therefore foster relationships with clients and serve as a touchstone for advice anytime moving forward.
Serving Your Team and Industry – With a vast array of clients in manufacturing, construction, health, academic, and government sectors, ACUTE brings the best safety practices from across the spectrum to your workplace.
100 Years Combined Experience – ACUTE provides comprehensive health and safety training, on-site safety services, and consulting services. With over 100 years of combined experience, our company staff offer more than theoretical or abstract ideas.  ACUTE offers solutions.
Track Record of Success – ACUTE is rated 4.9/5 stars on Google reviews, demonstrating a commitment to our clients, quality, and passion for training.
"Kept class moving, made it exciting and had coffee/snacks for attendees."
– Chris Schuett
Click here to see what training courses we have at ACUTE or contact us today for quality training in your workplace or on-site at ACUTE's proven training facilities!