This article is the first chapter in a series on Working At Heights Training. Here we will focus on when to sign up.
ACUTE Environmental and Safety offers high-quality workplace health and safety training. We are celebrating our 25th anniversary in 2020. Join the many thousands we have trained over the year. Register here today.
Now let's take a look at when to sign up for Working At Heights Training.
Working At Heights Training Chapter 1
When to sign up
There are several dates open for Working at Heights courses in 2020. This is standard for every given year because this is one of our most popular courses.
You can typically register anytime up to the day before, but you should plan ahead and secure your spot. In fact, our courses fill up quickly – sometimes weeks in advance. If you have a date in mind, don't delay!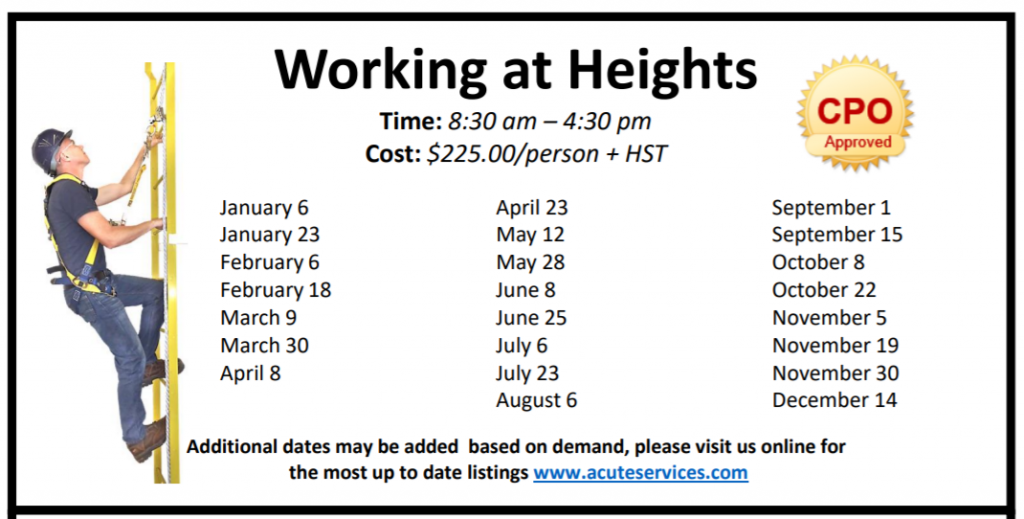 Click the image above to access our Working at Heights Training calendar for 2020
Who needs Working at Heights Training?
Ontario's Construction Projects regulation requires all workers who use/wear fall protection to have received working at heights training from a facility approved by the Ontario Chief Prevention Officer. You must, therefore, sign up for the training in time to be properly certified for your construction job.
In other words, this course is mandatory if you are a construction worker and will use any of the following:
Travel restraint systems

Fall restricting systems

Fall arrest systems

Safety nets

Work belts OR 

safety belts
This course is geared toward construction sites. However, those working in industrial, mining, or health care sectors may also find the content comprehensive and relevant for their workplaces.
Here's what you can expect from ACUTE's Working at Heights training
What if you don't sign up?
It's important to note that if working at heights hazards are imminent and you aren't trained, a stop work order could be issued.
Further to that, your employer could also be prosecuted under the Provincial Offences Act.
Per the Workers Health and Safety Center, the Ministry of Labour's last working at heights compliance blitz included visits to 707 construction projects. Inspectors issued 2,158 orders for non-compliance with requirements under the Occupational Health and Safety Act (OHSA) and its regulations. This included 191 stop work orders.
For example, the owner of a Belleville, Ontario roofing company was sentenced to seven days in jail after pleading guilty for failing to provide adequate fall protection. This same owner had three similar prior convictions and had already been sentenced to serve one day in jail.
According to a press release by News On, "Fall protection contraventions are considered to be one of the 'killer contraventions' within the Province of Ontario and are treated extremely seriously by the Ministry of Labour."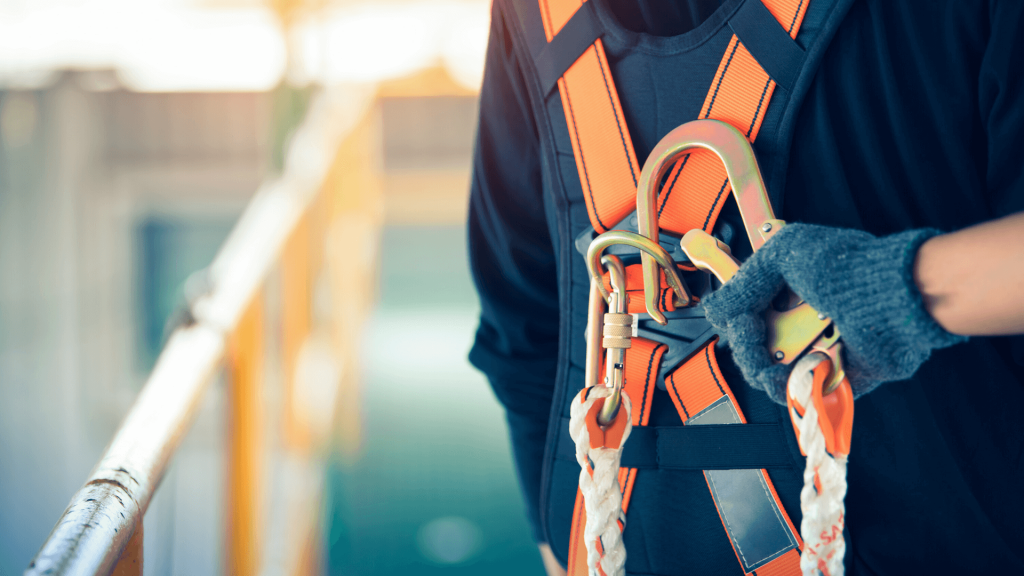 Adequate WAH training is therefore necessary in order to avoid legal repercussions
Trust ACUTE For Your Working at Heights Training!
With ACUTE, you will experience the best comprehensive, hands-on working at heights training. ACUTE goes beyond government compliance in Ontario health and safety training.
Open Door Instructor-Student Partnership: ACUTE's training services emphasize client participation. Staff foster relationships with clients and serve as a touchstone for advice moving forward.
Serving Your Team and Industry: With a vast array of clients in the manufacturing, construction, health, academic, and government sectors, ACUTE brings the best safety practices from across the spectrum to your workplace.
100 Years Combined Experience: ACUTE provides comprehensive health and safety training, on-site safety services, and consulting services. With over 100 years of combined experience, our staff offers more than theoretical or abstract ideas. ACUTE offers solutions.
Track Record of Success: ACUTE is rated 4.9/5 stars on Google reviews, demonstrating a commitment to our clients, quality, and a passion for training.
"Kept class moving, made it exciting and had coffee/snacks for attendees." (Chris Schuett)
Nothing is worth the risk. Ensure your safety today.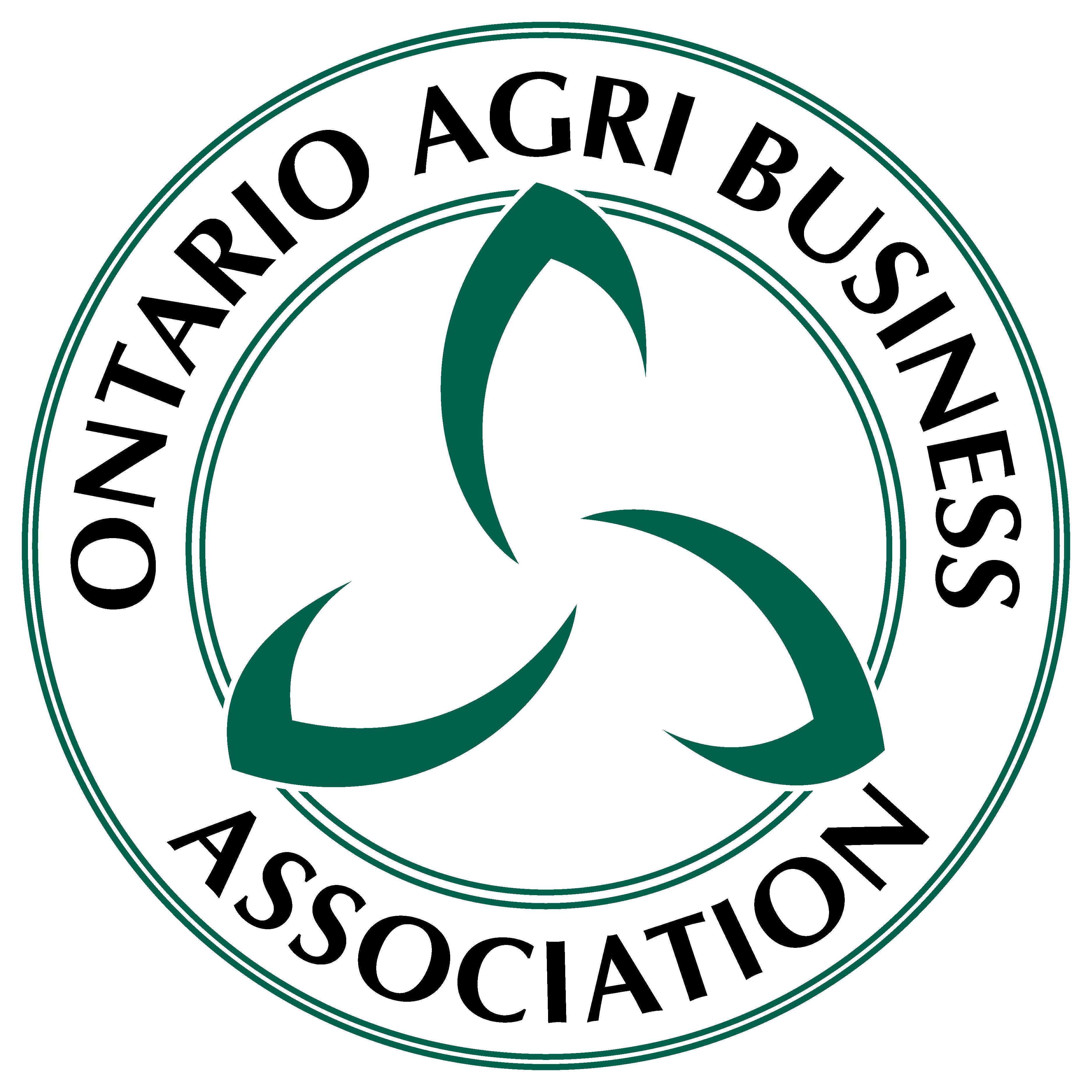 For all OABA members, please contact the ACUTE office prior to registration